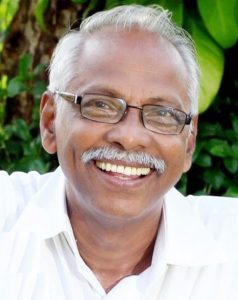 M N Karassery
Is an Indian writer and social activist from Kerala. M.N.Karassery is the pen-name of Mohiyuddin Nedukandiyil. Karassery is the name of his village. Mohiyuddin is an academic, public speaker and socio-political commentator. His area of scholarly interest include Gandhism, secular democracy, civil rights, gender equality, language studies, comparative literature, translation, Muslim personal law reforms, litterery criticism and Mappilappattu (Muslim folk songs). He retired as Professor and Head of the Department of Malayalam, University of Calicut, Kerala after being an academic for 34 years in March 2012.
Early Life and Education
He was born on 2 July 1951 to late N. C. Muhammed Haji and late K C Ayishakkutty in Karassery, a village 30 kilometers east to Kozhikode city. Brothers: Salam Nadukkandy (a retired teacher) and Nadukkandy Aboobacker (a retired journalist) Sister: Nadukkandy Ummayyakkutty (a housewife).
His school education was from Issathul Islam A.U.P. School (now Haji N.C.Koyakkutty Memorial (1956-1964) and Chennamangallur High School (1964-1967). On the side, his religious education was from the Sunni Institution (Shafi Madhab) Hidayathussibiyan Madrassa, Karassery after which he attended the Muslim local night religious studies centre (dars) to study The Quran for a short period. He considers A K Abdurahiman Kutty, Nettayam Sivadas, K.T.Philip and V.Manhu as teachers who have had a formative influence on his life values and education during this time.
He went on to do his Pre-Degree (1967-1969) and Degree (1969-1972) from Guruvayurappan College, Kozhikode in Sociology and Malayalam double main securing first rank, during which his interest in Malayalam literature and culture was mentored by the language scholar and celebrated teacher P C Ettanunni Rajah. His education was financially supported by his paternal uncle, N.C. Koyakkkutty Haji. He went to Thalassery as part of a peace procession after the Thalassery Riot (1971) and this was his first step in activism.
M N Karassery joined Calicut University Malayalam Department for his Masters in Malayalam (1972-1974), where he was the student of iconic Malayalam public intellectual and orator, Prof. Sukumar Azhicode, Sanskrit scholar Prof. Chathanath Achyuthanunni and linguist Prof. T. B. Venugopalapanickker. His Master's dissertation was on the novels of Vaikom Muhammad Basheer. He was a recipient of the national merit scholarship and passed Post Graduation with second rank.
His M.Phil was on Kuttikrishna Marar's critically acclaimed "Bharataparyatanam" (1985)
Research and Teaching Career
Though he started part-time teaching in a tutorial college during his postgraduate days in Winners College, Kohinoor(1972-1974) and after that in Jayabharati Tutorial College, Mankavu (1974), he left academics for a while to become a staff at Kutties Carriers parcel service in Bangalore in 1975. When he got direct UGC research fellowship, he quit the job to become a full time research scholar and started doing his Ph.D. with Prof. Sukumar Azhikode as guide in Subaltern Muslim folk songs, with special focus on Moyinkutty Vaidyar- the first doctoral project in this field, after which he was a sub editor in Mathrubhumi Daily at Kozhikode (1976-1978).
He left journalism to take up the job of a Junior Lecturer through P.Sc. selection (First Rank) and joined Government Arts and Science College, Kozhikode(1978-1980). He went on to teach in Government College Kodanchery (1980-1982), Government Evening College, Kozhikode (1982-1984), later came back to Government Arts and Science College, Kozhikode (1984-1986). In 1986, he joined the Calicut University Malayalam Department as lecturer, where he retired from as Professor and Head after 26 years in March 2012.
In 2002, on an Indian Council of Historical Research funding he travelled to London to work at the British Library on Arabic- Malayalaam.
He won the UGC Research Award in 2007 for his post doctoral work on the history and character of Arabic Malayalam. After retirement he was invited to the Persion Research Institute, Aligarh Muslim University, U.P. as a Visiting Professor and he served the university for a semeter (2012- 2013).
Journalism, Film, TV and Radio
His first full-time job was as the manager of a parcel company, Kutties Carriers. Between his research and teaching jobs he has also worked as a journalist with Mathrubhumi.
He has also been the editor of the journal of Kerala Sahitya Akademi, Sahithyalokam and the executive editor of the Malayalam department journal, Malayala Vimarsham. He has also be an honorary consultant to the Janani Magazine, published from New York by American Malayalis since 2001.
He was involved with Malayalam Cinema briefly, beginning as the Production Executive of Chuzhi (1973) and the script writer of Nizhale Nee Sakshi, produced by B. P. Moideen of Mukkkam which became an incomplete project. In 1979, he wrote the script of the movie, Pathinalam Raavu (Produced by Salam Karassery and directed by Sreeni). He has written the screenplay of the state and national award winning documentary, "Nootaandinte Sakshi" (Witness to a Century), based on the life of the freedom fighter, E Moidu Maulavi. He has also scripted and produced "Ezhuthaatha kathukal", a documentary-based on his book Ummamarkkuvendi Oru Sankada Haraji deseribing the problems of Muslim women, which one the Kerala State Award for the best documentary of the year.
M N Karassery is a constant presence on Malayalam TV as a participant in Political debates, in the cause of secular politics. He had been anchor to the cultural programme, "Samskaara Kairali" in 2001 to 2002 on Kairali TV channel. He gave a number of talks on literary and social issues on the All India Radio.
Major Areas of Academic/Political Interest and Publications
Kutikrishna Marar
Kuttikrishna Marar, the Malayalam literary critic and writer of Bharataparyatanam, has had a profound influence on M N Karassery's literary sensibility and writing style. His M. Phil dissertation has been published as a monograph, Mararude Kurukshetram (1998).
Vaikom Muhammad Basheer
M N Karassery's engagement with Basheer has been both personal, literary and social. He was a regular visitor at this literary stalwart's house in Beypore from 1970 till he died in 1994. The last interview of Basheer was taken by M N Karassery for All India Radio in 1994, weeks before his death. Karassery has authored the Sahitya Akademi, Delhi-commissioned biography of Basheer in Makers of Indian Literature Series (2008). This monograph was translated into English (tr: K.M.Sherrif), Hindi (tr: K.M. Malathy), Tamil (tr: Thoppil Mohammed Meeran), and Kannada (tr: Sarah Aboobacker) and brought out by Sahitya Akademi, New Delhi.
Karassery authored another book titled Basheerinte Poonkavanam (2003)
Mappilappattu and Malabar Muslim Culture
One of the sustained interests of M N Karassery has been the subaltern Muslim folk songs, known as Mappilappaattu. His first publication in this area was an edited volume: Pulikkottil Krithikal (1979). His doctoral dissertation on the works of Moyin Kutty Vaidyar is yet to be published as a book, though a number of articles have been published on the matter. He has retold Husnul Jamal of Moyinkutty Vaidyar for children in Malayalam (1987). He has also authored two books: Moyin Kutty Vaidyar: Kalayum Kaalavum (2015) and Pulikkottil: Mappilappaattile Keraleeyatha (2020) in this area.
Muslim Social Reform
M N Karassery has written and gave speeches on Muslim social reform, especially on gender justice and secularism. He has authored books such as Ummamaarkku Vendi oru Sankada Haraji (An Appeal for Muslim Women, 2008) and Pidakkozhi Koovaruthu ( Hens shouldn't Crow, 2014) on the subject. Shariat – Chila Varthamaanangal (Shariat Some Conversations, 2006) is a compilation of conversations with persons such as Asghar Ali Engineer, Tahir Mohamood, Vaikom Muhammad Basheer, Kamala Das (Kamala Surayya), Thoppil Muhammad Meeran and Sarah Aboobakkar. He has also edited the collection of Memoirs on the social reformer C N Ahammad Maulavi (C N Smaranika), along with modifying the Sahih-ul-Bhukhari, edited and translated by C N Ahammed Maulavi.
On the issue of secularism, he has written a number of articles, compiled as Mathetharavaadathe Muslimkal Pedikkendathundo (Should Muslims be Afraid of Secularism, 2012), Vargeeyathakkethire oru pusthakam (A book against Communalism, 2004), Islaamika Rashtreeyam Vimarshikkappedunnu (Islamic politics criticised, 2010). Varthamaanakaala Varthamaanangal (2019) is the conversation with the noted Malayalam writer Anand on India and the future of secularism.
Civil Society Activism (Chekanur Maulavi Assassination Issue)
M N Karassery started and led the civil rights movement that followed the murder of the religious reformer, Chekanur Maulavi on 29 July 1993 by the religious fundamentalists. He continuously spoke on the topic on TV and in public meetings. His articles on the issue have been collected as Chekanoorinte Raktham (2001). He has founded "Mathetharasamaajam", a platform for secular democracy in Kozhikode, which he is the President of. He has also been part of several environmental movements.
Translations
M N Karassery has been translating since 1983, a literary and cultural activity he started with the translation of Muhammad Asad's spiritual travelogue, The Road to Mecca (Makkayilekkulla Patha, 1983). He has retold the sayings of Prophet Muhammad (Thirumozhikal, 1981) and the selected verses of The Quran (Thiruvarul, 1988). He has translated Pottekkattu (biography written by R Viswanathan for the Makers of Indian Literature series of the Sahitya Akademi, Delhi, 1999), and retold Mulla Nazruddin Stories in Malayalam in three volumes (Mulla Nazrudheente Podikkaikal (1982), Mulla Nazrudheente Nermpokkukal (2000) and Mulla Nazrudheente Kusruthikal (2010).

Family
In 1978, he married V P Kadeeja, a postal department employee from Thalassery. He has three children: Nisa, a naturopath, Ashley, an academic and Muhammad Haris, a software innovator.