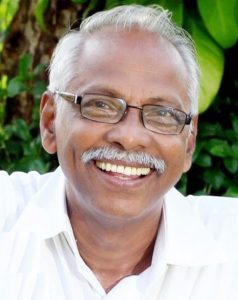 M.N. Karassery is the pen-name of Mr. Mohiyuddin Nedukkandiyil. Karassery is the name of his village. It is a panchayath situated in the eastern region of Kozhikode (Calicut) District, Kerala, the southern most State of India. Mr. Karassery was born in this village on 2nd July 1951. Father: Late N.C.Mohammad Haji. Mother: Late K.C.Ayishakkutty.
He was educated at Karassery U.P. School, Hidayathussibiyan Madrasa and Dars of Karassery Juma Masjid.Of late he moved to Chennamangallur High School, Chennamangallur (1964-1967), Guruvayurappan College, Calicut(1967- 1972) and Department of Malayalalam, University of Calicut (1972- 1974). He took his B.A. in Sociology and Malayalam with Ist Rank and IInd class in 1972 and M.A. in Malayalam with IInd Rank and Ist class in 1974. After ten years he joined his old Dept to take M.Phil in Malayalam and come out with Ist Rank and Ist class (1985). Later he gained Ph.D in Malayalam from the same Dept (1993) under the guidance of Prof. Sukumar Azhicode the renowned orator, literary critic and scholar, who was his teacher for M.A and M.Phil courses.
Karassery's themes for dissertations:
M.A. Novels of Basheer
M.Phil Criticism of Kuttikrishna Marar
Ph.D Literary and Cultural Values of Mappila Songs
M.N.Karassery is a Professor of Malayalam at the University of Calicut, Kerala, India.
He is a prolific writer and well known orator. More ever, he is a human rights activist who deeply believes in Secular Democracy. Though he is a political commentator , Karassery has no affiliation with any party. He respects Gandhi and Abul Kalam Azad. He gives issue based support to different parties on different occasions.
Karassery is a warrior of gender justice. For the last 25 years, he is especially working against the discrimination faced by the Women in the Muslim Community.
He attacks the doctrine of religious state. The target of his arrows is Abul A'ala Maududi, the founder of Jamaet- e- Islami (1941). He argues the idea of Islamic state will ruin the Islam and Muslims alike by promoting terrorism.
M.N.Karassery is literary critic in Malayalam who has many books to his credit. He studied the Malayalam novelist Basheer, Critic Kutti Krishna Marar and poet Kunhunny. In his critical writings, he stands for ethics and aesthetics alike. His another favourite subject is Language. He fights for the simple, lucid and direct prose. Karassery has published books and articles in this regards.
He is a frequent presence in Malayalam TV channels and print media as an advocate of the poor and the unorganized.